How to Grow a Business

From Scratch 
Learning how to grow a business is the only goal we have as we start the journey to become our own boss, and have the freedom to live life on our own terms....no boss, no time clocks, no busy commute, and the ability to control our own schedule.
Websites, SEO, and Sales Funnels
Websites
Websites attract new customers to your business, so that you make money, but they also introduce you to the world, and tell your story.
By being available 24/7, even when you're not, it's like an "always-open" business support during and outside of business hours.
But, a website can do something else that is very important for you ... help convert more of your visitors to real customers.
It can be your number one tool for standing out in a crowd of competition. It's not as hard to build anymore, or expensive, and you no longer need to be tech savvy to build a website.

Websites offer a better return on investment than any other form of advertising, and it's a great tax write-off. It also allows you to post testimonials about your business, offer pictures of the business (which makes people feel more comfortable walking in), and gives a list of your services and prices.
SEO
Search Engine Optimization (SEO) is a process of improving the quantity and quality of  traffic (visitors) that come to your website from the search engines. It targets unpaid traffic, rather than paid traffic. 
Unpaid traffic is called natural or organic traffic. Paid traffic (like Facebook or Instagram ads) is direct traffic, leading directly to your website. 
Sales Funnels
Sales funnels can make the sale for you, and then offer additional products or services before the customer leaves the website, allowing more income. Perfect for online gift certificate purchases, with add-on services.
A sales funnel is a step-by-step process that helps you to bring your customer one step closer to your online offers and a decision to buy through a series of actions like automated emails, videos, articles and landing pages that will do the selling for you.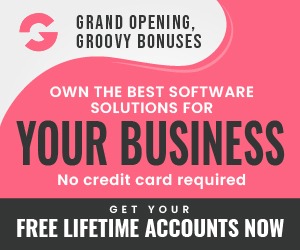 How to Grow a Business with Groove
In this day and age, any business that wants to thrive must go online.
With so many things going on around the world, and global changes that will forever impact the way people live and do business, going online is no longer just an option.
Not only to maintain their success, but even just to survive.
Sure, there are tools that are already available that any business can use to run their entire company and processes digitally. However, any minimum amount of research will tell you that most of these products are expensive, complicated and limited in customization.
In other words, not very user-friendly, and definitely not suitable for all business owners, especially those who are less tech-savvy and might even be on a budget.
Who can afford to invest thousands of dollars a month into a bunch of complicated tools, and on top of that, hire employees to manage the systems, right?
Well, if this sounds familiar in any way, I have some good news for you.
Groove is Free! Go Check It Out!
Add-On Services 
Add-on services help make more money in a business.
For a spa or massage therapy business, these services could be added and offer an extended time of relaxation.
Body scrubs - can help soften skin, and make us feel prettier 
Tub Soak with bath bombs, bath salts, or bubble bath - help us relax in the tub, while soaking and unwinding

Hand and Foot Spa Treatments - help relax tired hands and feet, wrap in hot towels
Face masks and facial massage -  call it a mini-facial, and use small, cold facial stones
Essential oils - help relax the mind and body, use in diffuser or in massage oil/cream
Scalp oil treatments -

super relaxing and 

help hair feel stronger and healthier
Facial Mist - hydrates face and refreshes facial skin before bed
Hair Mask - creates softer, shiner hair and makes hair stronger to reduces breakage
Lip Scrub and Balm - moisturizes lips after exfoliation, and anytime throughout the day
Eyelash / Eyebrow Nourishing Serum - helps add needed vitamins and minerals to help grow hair of lashes and brows
How to Grow a Business with Essential Oils 
Some of the most natural, healing products used today are essential oils. They offer healing benefits that support our mind, body and spirit, allowing release of stress, anxiety and pain, and focusing on those benefits is how to grow a business.
Peppermint  - soothes stomach issues like nausea 
Bergamot  - helps skin conditions like eczema and acne
Lavender  - encourages relaxation
Eucalyptus - to loosen congestion in nasal passages and chest - great for relaxation too!
Tea Tree - to help boost immune system
Rose - to reduce anxiety
Sandlewood - to calm nerves
Chamomile - used for mood support
Jasmine - helps relieve depression
The easiest, most innovative software for building a website, SEO, and sales funnels, and for growing a business is Groove.
Whether you want to learn how to build a business for yourself, or someone else, learning how to create your own website, how to do your own SEO, and learning how to use sales funnels is a must.